Spam Filter
Tired of spam? Hosting Masters does something about it!
By default, email is filtered and a substantial quantity of spam is detected and deleted before it clogs your box.
When the filter is ON, our mail system rejects mail from sites on any of the following blacklists. We have chosen these organizations as they have the most reliable and current lists available.
SPEWS - Spam Prevention Early Warning System If a website owner feels they are wrongfully listed on a SPAM blacklist, they should refer to one of the websites listed above to see why they were blocked and how they can be removed.

If you wish, you may turn this feature off for certain email addresses or for your whole domain.

You can manage your Spam Filtering settings with the Spam Filter section of the SiteMadeEasy Web Control Panel provided with your domain.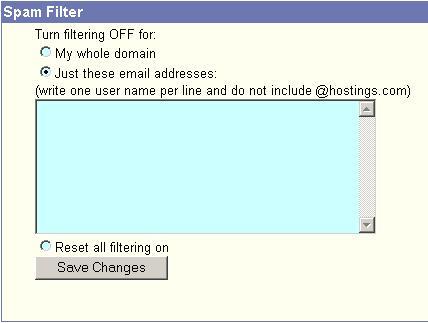 If you wish to turn off spam filters for your entire domain, click next to "My whole domain" and click "Save Changes".
If you wish to turn off spam filters for certain email addresses, click next to "Just these email addresses", enter the names (for example, if you want to disable spam filtering for fred@yourdomain.com enter fred) and click "Save Changes".
If you have turned off spam filters, this screen will change and offer you the option to turn them back on.

Note: give changes 10 minutes to take effect.