SiteMadeEasy Web Control Panel Password Manager

To change any passwords for your site (including the passwords for Mysql and your SiteMadeEasy Web Control Panel, AKA "Plusmail"), click on "Password Manager".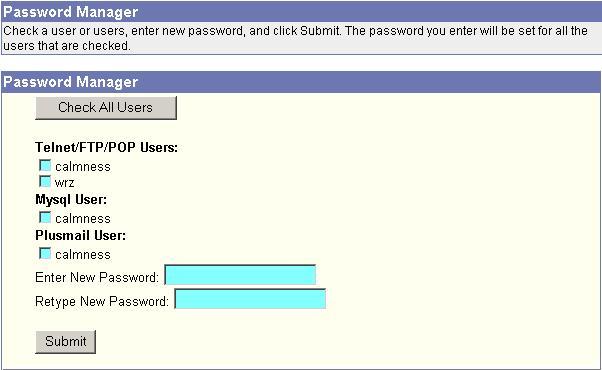 Click on one or more specific usernames (or click "Check All Users" if you want to select all usernames), and type the new password you wish to use. You must then retype the password for confirmation and click Submit.

If you forgot your Plusmail password and can't get into Plusmail, you can reset it by FTPing to your site (assuming your FTP password is different, and you know it). In your home directory, delete the file "plusmail_pass" - when you next attempt to login to Plusmail, you will be prompted to reset your Plusmail password.
If you have any difficulty with any passwords, you can always contact us for help.