Creating a Mailing List, Subscribable Mailing List & Majordomo List
Mailing lists are a popular way for people to send and receive information of a particular type. For example, you might wish to add all of your customers to a mailing list, then notify them all of upcoming sales or specials with just one email flyer.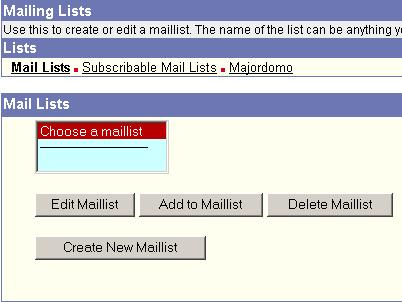 To create a new mailing list after logging in to your SiteMadeEasy Web Control Panel:
1. Click "Create New Maillist".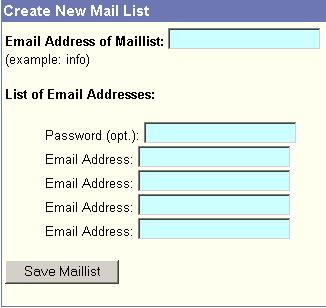 2. Enter the name you wish the list to be under in the "Email Address of Maillist" box. For example, if you wanted the list to be newsletter@yourdomain.com, you would enter newsletter into the box.
3. You may enter a password for the list in the "Password" field if you wish.
4. Add the email addresses that are to receive the messages sent to the maillist.
5. Click "Save Maillist".
If you run out of spaces for email addresses, save your changes and then edit the list (see below) and more boxes will be added to the form.

To edit a mailing list:

1. Choose the list you wish to edit.
2. Click "Edit Maillist".
3. A page with entry boxes for email addresses will now be displayed. When you are finished adding/deleting/changing addresses be sure to click on the "Save Maillist" button to save your changes. If you run out of spaces, save your changes and then edit the list again and more boxes will be added to the form.

To delete a mailing list:

1. Choose the list you wish to delete.
2. Click "Delete Maillist".

-------------------------------------------------------------------------------

Subscribable Mailing Lists

Making a mailing list subscribable allows your customers to subscribe to your mailing list simply by emailing a certain address.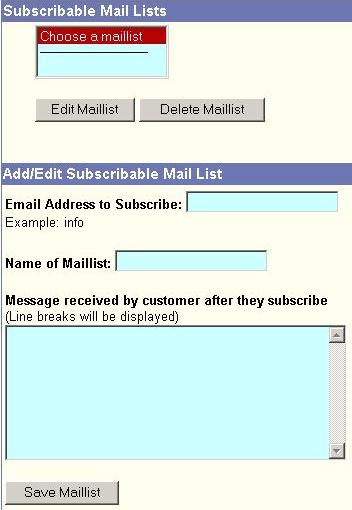 To add a subscribable mailing list:
1. Enter the address where your customers will send email to subscribe to the list.
2. Enter the mailing list name (i.e., newsletter@yourdomain.com).
3. Enter a short message that will be sent to your customers once they are subscribed to the list.
4. Click Save Maillist
Note: only emails of 75KB or less can be sent to a subscribable maillist.
--------------------------------------------------------------------------------
Majordomo
Majordomo is a subscribable mailing list with administrative features. It has more comprehensive features than regular subscribable mailing lists. If you wish to to have a Majordomo listserver activated, see our form for requesting one.
Make sure it has a different name than the name of your domain. For instance if your domain is fredhappy.com, you might want to ask for fredhappydomo.
Once we have set up your Majordomo listserver, you can get help by sending email to majordomo@yourdomain.com. On the first line of your email, just type the word HELP. You will be sent a general help file. If you want more detailed instructions on using Majordomo, send email to Domo@safe-order.net for full instructions.
Another great resource for Majordomo information is: http://www.greatcircle.com/majordomo/majordomo.manual.txt
To set-up a majordomo list: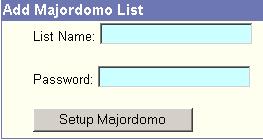 1. Enter the desired list name.
2. Enter the password you wish to use for the list.
3. Click "Setup Majordomo". Majordomo usually requires 36-48 hours to be activated.